Marine decking isn't like an ordinary deck. It needs to hold up against constant exposure to water and harsh weather conditions. It needs to be durable, yet cool to the touch for a family's bare feet on scorching hot days. Marine decking gets dirty with use so you'll want to consider a low-maintenance and easy-to-clean board option.
Investing in marine decking is worth the research and deck price tag associated with it. In this blog, we'll walk you through why it's worth investing in, how much marine decking costs over time and the different material options available in the market.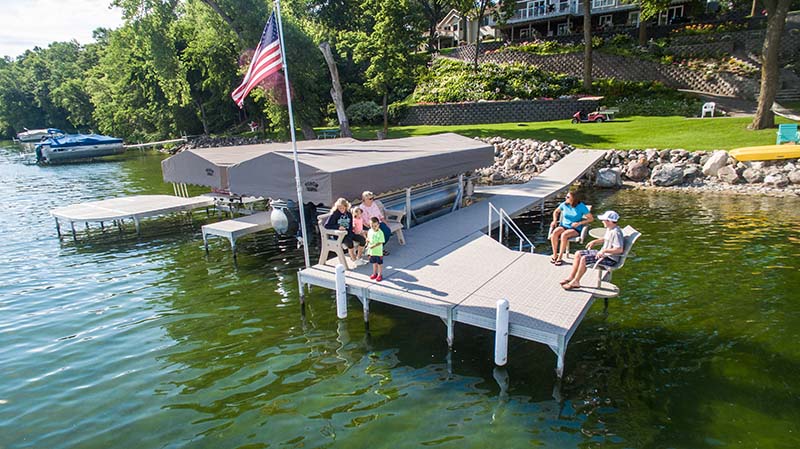 The Worthwhile Investment of Marine Decking
Investing in durable marine decking is a long-term and strategic way to save money and ensure everyone is safe when taking the boat out and enjoying the summer sun.
Choosing the right material for your marine deck will impact the lifetime cost of cleaning, the longevity of the deck before it needs replacing, and how well it withstands the elements that are associated with a waterfront environment, such as water, salt, sand and sun.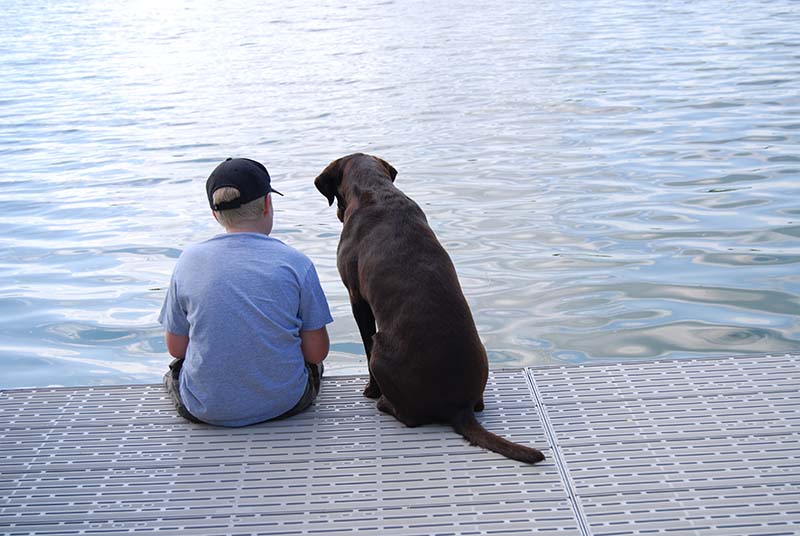 The Different Types of Marine Decking
There are many different types of materials to choose from when it comes to marine decking, all ranging in upfront costs and their lifetime costs such as maintenance and need for replacement.
The most common types of materials are wood, metal, composite, PVC and polypropylene plastic.
Wood
The most common material, given its historical legacy, is wood or traditional lumber. Wood is highly affordable and provides structural reliability. Marine-grade plywood is often used and this is allowable through a chemical or pressure treatment that makes the wood more moisture-resistant.
Wood boards, even ones that are pressure-treated, will eventually rot and weaken when exposed to high humidity or placed directly on water. For safety reasons, this severely limits the amount of time wood deck boards can be used. Wood deck boards need to be continually painted and stained to increase their longevity, which adds up over time with yearly costs of upkeep and the cost of replacing rotting boards. Wood has the shortest average lifespan for deck board materials, averaging less than 10 years.
Many boat owners think wood is an environmentally friendly choice, but pressure-treated wood is manufactured by infusing chemicals deep into the fibers of the wood. These chemicals can then leech into the soil and water, which can be harmful to humans and the local ecosystem around the deck.
Metal
Metal is great for creating durable and sustainable decks. It has a lower cost, is highly available, and has better long-term durability compared to wood without its proper maintenance. Metal options include stainless steel, aluminum and copper, but they come with their own issues.
Metals rust when exposed to moisture over long periods of time. Metal also corrodes, which leads to structural damage and can equal costly repairs. Metal deck boards can also harbor bacteria growth.
Aluminum is the most common metal material. It's lightweight, easy to install, strong, easy to clean and maintain, lighter than wood and stain-resistant. But, it usually has to be custom-made which is costly.
Composite
Composite decking is lightweight, maintenance-free, easy to work with, won't warp and is easy to clean. It's a great way to get the look of wood without the hassle of real wood.
But, composite boards can peel if they are pressure-washed or sanded. It also needs more support from underneath, adding to the initial costs of its higher price tag of $6-$10 per foot. It is highly prone to mildew and mold, and it's known for reaching extremely hot temperatures. On a hot summer day, it can reach up to 150°F, which can easily cause burns on anyone unlucky enough to forget their water shoes.
PVC
PVC decking boards exclude any organic ingredients that absorb moisture, which means they resist mildew, mold, rot and insect infestation. PVC decking boards require little maintenance, withstand harsh weather conditions and can add longevity to your marine decking project.
But, PVC does come with drawbacks. PVC decking boards can become extremely hot in the direct, prolonged sun. They can also lack the strength necessary for structural and load-bearing applications, meaning extra support will need to be added into the price tag. If you live in an area with rapidly changing temperatures, your PVC decking boards can experience high rates of thermal expansion and contraction.
Polypropylene Plastic
The required maintenance and replacement costs from the materials above can be eliminated by boards that are entirely waterproof, like polypropylene plastic lumber. Polypropylene plastic will never rot, swell, warp, or splinter when exposed to water. Plastic lumber doesn't require any ongoing treatments to remain waterproof.
Polypropylene offers long-term benefits that other materials don't – they are maintenance-free, survive a long life without replacement because they remain stronger for longer, and there's no cupping, rotting, peeling, fading, blistering or breaking under normal use and weathering. You can walk comfortably on the deck barefoot when it's the hottest day of the year and enjoy your long-term savings.
Polypropylene has a higher upfront cost than other materials, but it's worth the investment and mental relief that comes with worry-free maintenance concerns.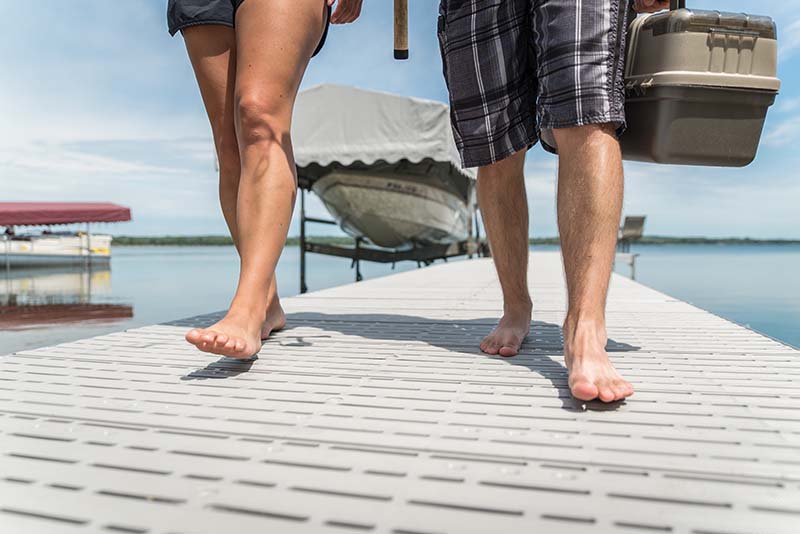 Why Polypropylene Plastic Marine Decking is a Smart Investment
Polypropylene plastic is the most long-term cost-beneficial marine decking type on the market. Titan Deck is a polypropylene injection molded and slotted deck board that allows water, debris and sunlight to easily pass through, keeping your walking surface clean.
Titan Deck boards are molded with a knurled surface to prevent slipping, even when the surface gets wet. They are UV-protected to keep from fading, hold up to extreme temperatures and weather conditions, are easily cleaned with soap and water, and were designed with bare feet in mind.
The cost savings are in the lifetime of the dock. You may never have to buy decking again as Titan Deck is made to last a lifetime and is covered by a limited lifetime warranty.
All of our dock boards are available in standard sizes that fit most boat dock applications. They also come in three popular styles, so you can choose the decking option that best matches your boat dock or boat pier surroundings.
Want to learn more about various polypropylene plastic marine decking? Check out Titan Deck's offering and contact us for more information.