Waterfront homes are designed to impress on all levels. From their breathtaking property to their picturesque views, these homes deliver attraction after attraction. But what is one alluring feature that no waterfront home should go without? A breathtaking dock design.
Whether you're a homeowner or a professional who elevates waterfront properties with beautiful dock builds, you know that any waterfront home deserves a dock that adds both aesthetic appeal and outstanding performance for ultimate function. 
But what's the best way to ensure a dock design delivers both? It's all about what the dock is made of — it needs high-quality materials that match its given environment and intended purpose. 
Consider The Environment and Preferred Dock Style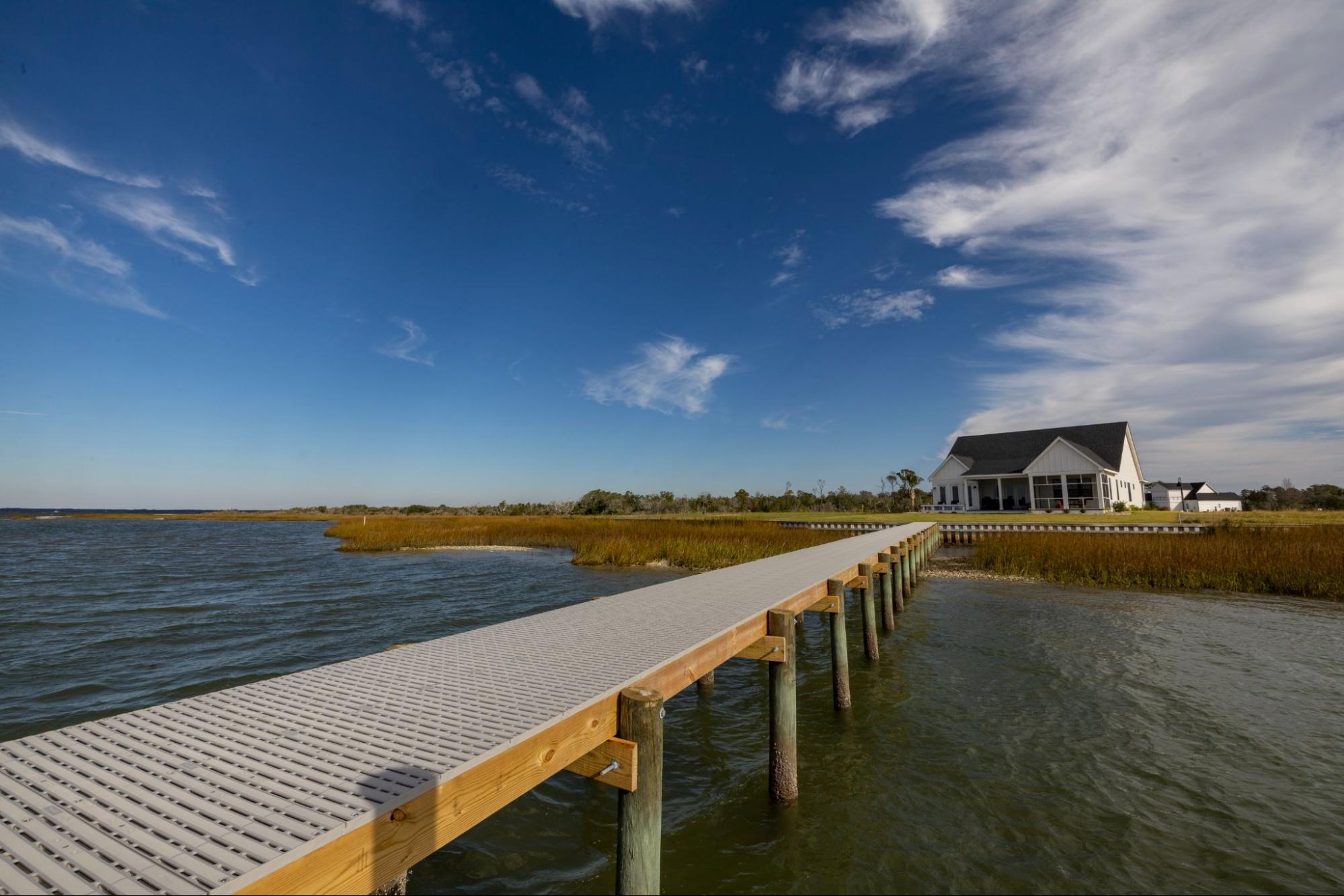 Before choosing the right decking, homeowners need to establish the dock style they're after. Whether it's an old-fashion wooden dock or a durable concrete pier that can face the toughest challenges of seaside life, the desired style will require different materials. The right waterfront dock decking material depends on the location, depth of water and the types of aquatic activities expected to take place.
How Will The Dock Be Used?
Fishing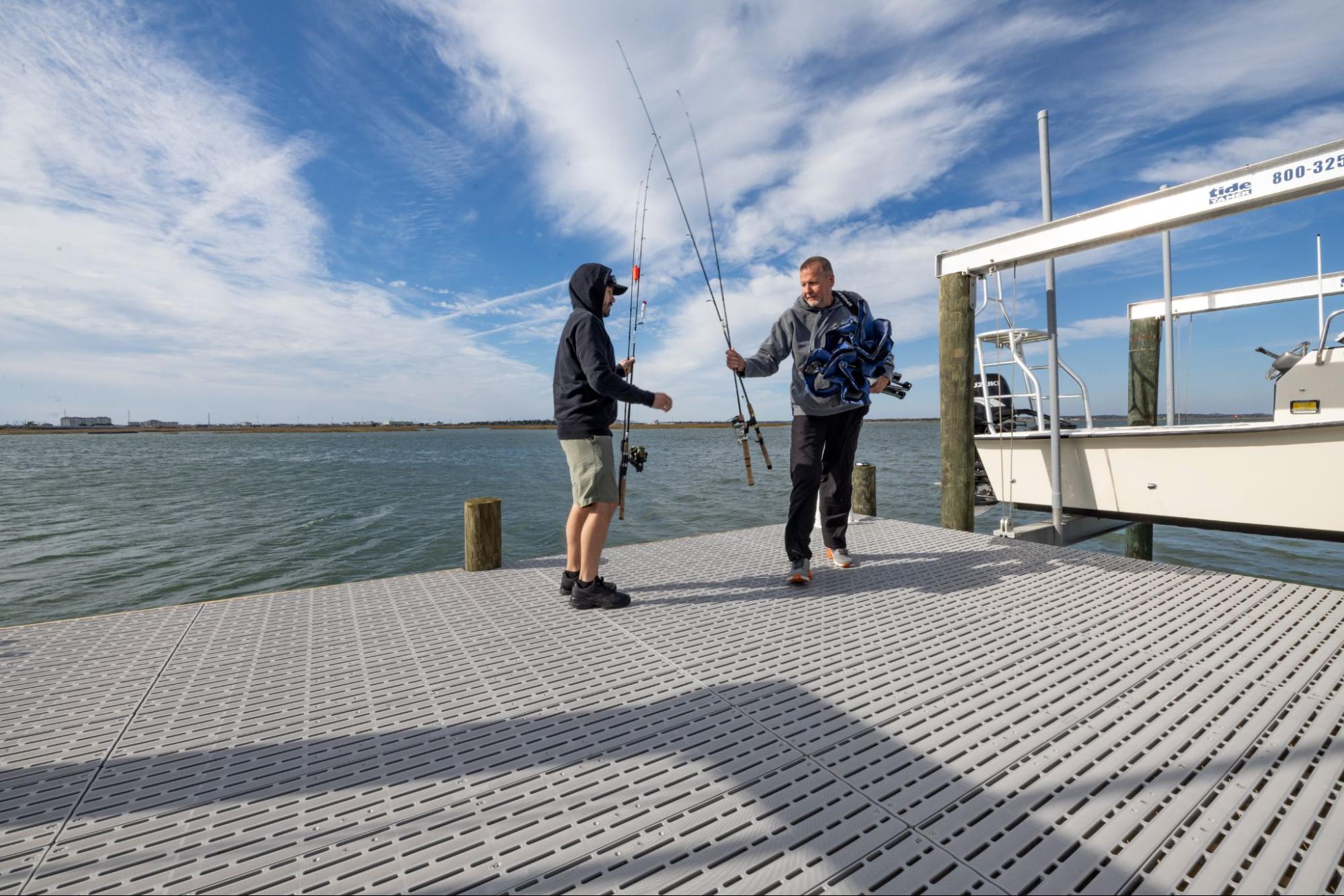 When it comes to recreational fishing, a stationary dock with a T or L shape design is generally the best option. This design provides ample space for multiple anglers to cast their lines from different angles and can also provide a sheltered area for cleaning fish and storing gear.
A stationary dock can be made from a variety of materials, including wood, composite decking and polypropylene plastic, depending on preference and budget. It's important to choose a material that is durable, slip-resistant and easy to maintain, as well as resistant to weather and water damage.
Other features can also enhance its functionality for fishing. For example, rod holders, storage compartments and lighting can make fishing more convenient and enjoyable. It's also important that the dock is designed to accommodate the size and weight of the boats and other watercraft.
Boating
It's important to choose a dock with durable, slip-resistant decking material like polypropylene to prevent accidents, and the dock needs to be properly anchored. In addition, the dock should be designed to accommodate the size and weight of the boats and other watercraft.
Some other features that can enhance a dock's functionality for boating include built-in cleats and bollards for securing the boats, as well as electrical outlets for charging batteries or powering accessories. It's also important to ensure that the dock is designed to withstand the wave action and weather conditions in the area.
Entertaining
Another great dock use is to be a captivating entertainment space, designed to provide comfort and enjoyment for family and friends. Guests can relax and enjoy the view and the company. When choosing a dock with entertainment in mind, it is also important to select seating for comfort, as well as kid-friendly materials, in order to ensure that it remains free from splintering and is cool underfoot, even on sunny summer days. 
Additionally, by adding accessories such as a sink and a grill, a perfect setting can be created for outdoor culinary adventures and many shared meals. Whether hosting lively gatherings, indulging in delicious feasts or simply basking in the joy of outdoor festivities, the deck promises to be a delightful entertainment hub that caters to everyone's interests. 
Work
Finally, the dock can also serve as a functional workspace for those involved in aquaculture. The dock should be tailored for demanding tasks, such as loading and unloading equipment, especially those with crab pots, oyster beds, clam beds and more. Beyond its primary role, it can also provide essential storage for nets, pots and other tools, making sure that the working environment is streamlined and organized. 
A dock for this purpose needs to be constructed from robust materials, designed to withstand the rigors of daily use. The dock needs to prove its resilience by effortlessly enduring the strain of pulling crab pots, oyster and clam baskets and other demanding operations. With an emphasis on practicality and durability, this dock will become an indispensable hub for labor-intensive activities by providing reliability and efficiency to those who rely on it on a daily basis. 
Decking Materials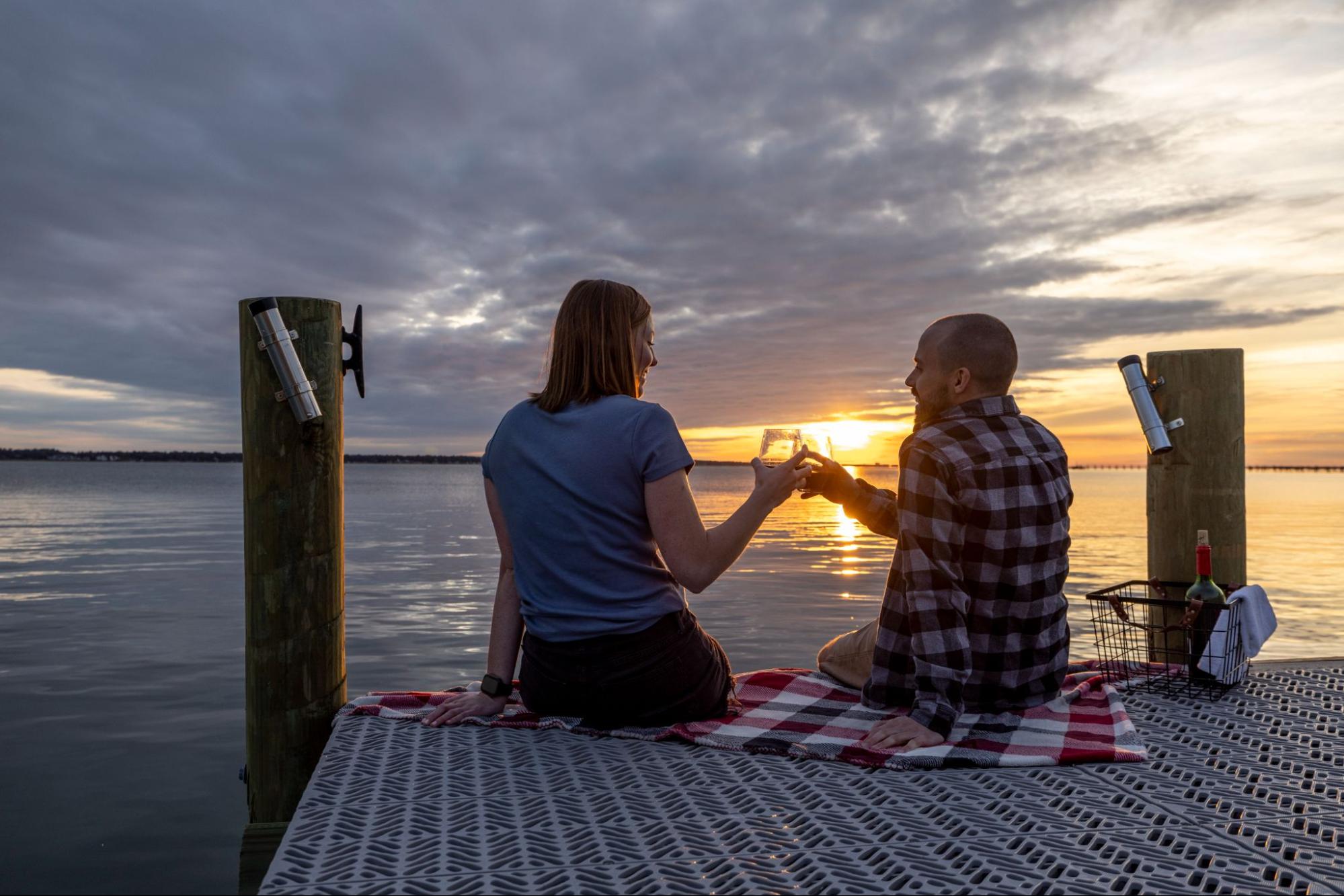 Once the dock design is selected, it's time to choose the best decking material. There's a plethora of options out there, so let's briefly survey the pros and cons of the most popular decking materials for private docks.
Wood Waterfront Decks
Wood decking can provide a warm, natural look that fits well with many waterfront homes. Depending on the type used, wood can be less expensive than many other decking materials, making it a budget-friendly choice. 
However, wood decking does require regular cleaning, sealing and staining to prevent rot, decay and warping from exposure to moisture and sunlight. Even with proper maintenance, wooden marine decks typically have a shorter lifespan than other decking materials, and may need to be replaced every 10-15 years. Wooden private docks can also be vulnerable to insect damage, particularly termites and marine borers, which can significantly reduce their lifespan.
Aluminum Waterfront Decks
Aluminum is highly durable and can withstand harsh weather conditions, including strong winds and saltwater exposure. Aluminum is a lightweight material, which can make installation easier and faster than with heavier materials like wood. The catch with aluminum decking is that aluminum decking is typically more expensive than traditional wood decking. Aluminum also absorbs a ton of heat, which can make it uncomfortable if not impossible to walk on barefoot during the summer. Another issue is the loud sounds produced when people walk on it. 
Composite Waterfront Decks
Usually, homeowners pick composite decking because it replicates the look of wood without the hassle and upkeep that comes with a wooden deck. Composite decking is highly durable and can withstand exposure to saltwater, UV rays and harsh weather conditions. 
However, composite decking can be more expensive than traditional wood decking, and like aluminum, composite decking has a heat absorption problem. Composite decking can also sometimes have a manufactured look and can be prone to staining, particularly in areas with high humidity, such as the coasts.
Polypropylene Waterfront Decks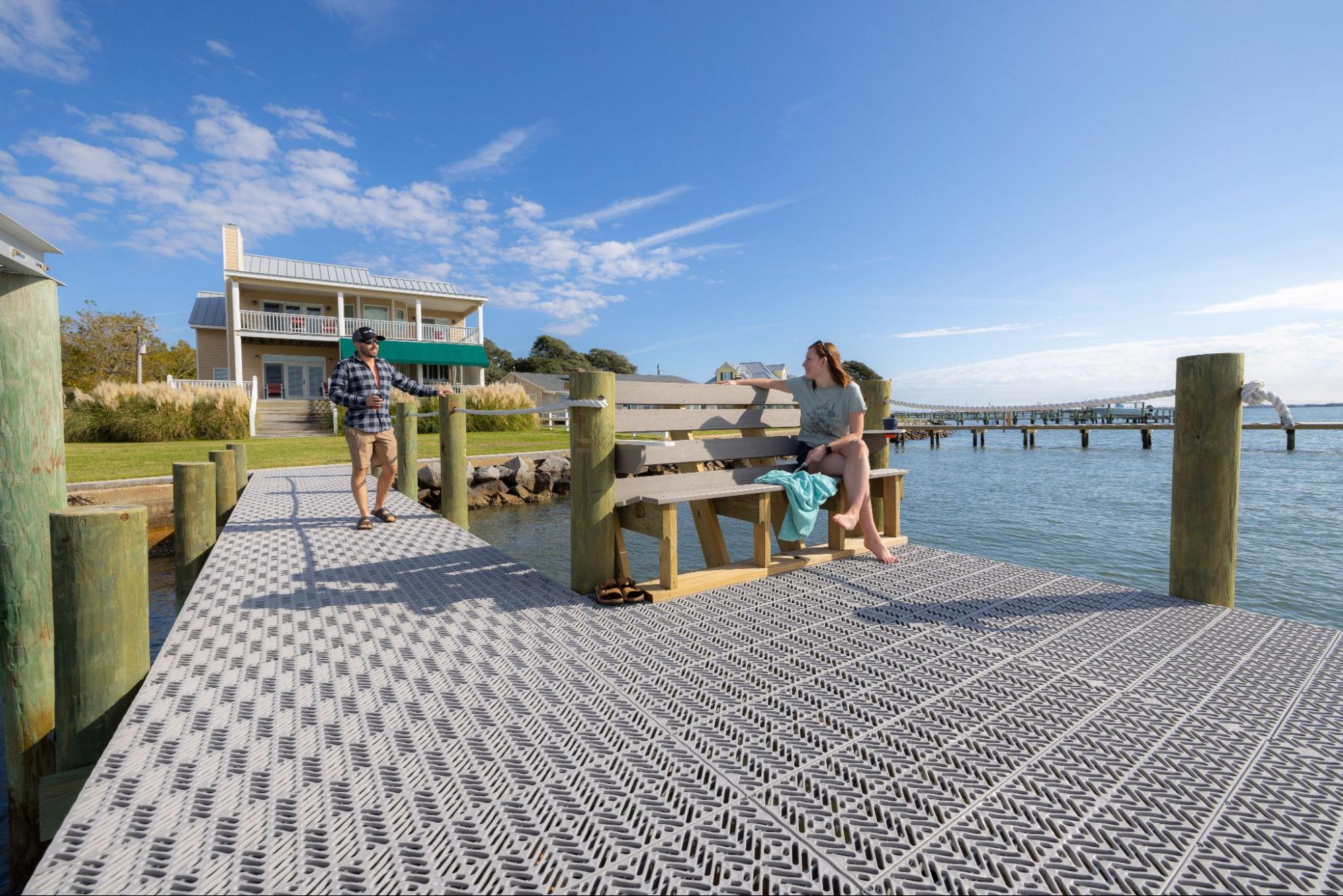 Polypropylene decking, like that offered by Titan Deck, is a popular choice for waterfront decks due to its durability, low-maintenance and cost-benefit advantages. Polypropylene decking is highly durable and can withstand exposure to saltwater, UV rays and harsh weather conditions. It is also resistant to rot, mold and mildew.
Polypropylene decking requires little maintenance beyond occasional cleaning and does not require staining or sealing like wood decks do. Although polypropylene decking can be more expensive than traditional wood decking, it offers a significant cost-benefit advantage in the long run. Due to its durability and resistance to wear and tear, polypropylene decking requires less frequent replacement and maintenance than other materials, leading to cost savings over time.
One of the most unique benefits of polypropylene decking is its resistance to heat absorption — no need to worry about scalding feet during the summer. Polypropylene decks from Titan Deck are built to be the last marine decking homeowners will ever need. 
For more information on various polypropylene plastic marine decking solutions, check out Titan Deck's marine decking solutions and speak to a Titan Deck expert for more information.