Looking to upgrade your dock this season? Dock design trends are always evolving, and 2023 is no different. From deck boards and batter boards to features and accessories sure to impress, you can customize your dock to meet your style, lifestyle and budget. 
Docks used to be a functional tool only, and decking materials used to be limited. But with growing innovations in the industry, you can build the dock of dreams that looks as good as it performs. Below are some of the latest trends in decking boards and dock design. 
Long Walks on the Dock
Simple and clean docks will never go out of style. A long, solid pathway is perfect for homeowners looking to keep their style minimalistic. 
Depending on a homeowner's available space, keeping it sleek is great for maintaining the efficiency of space. A long pathway that stays straight is great for families looking more for entrance to the water and whole-family entertainment versus boat storage.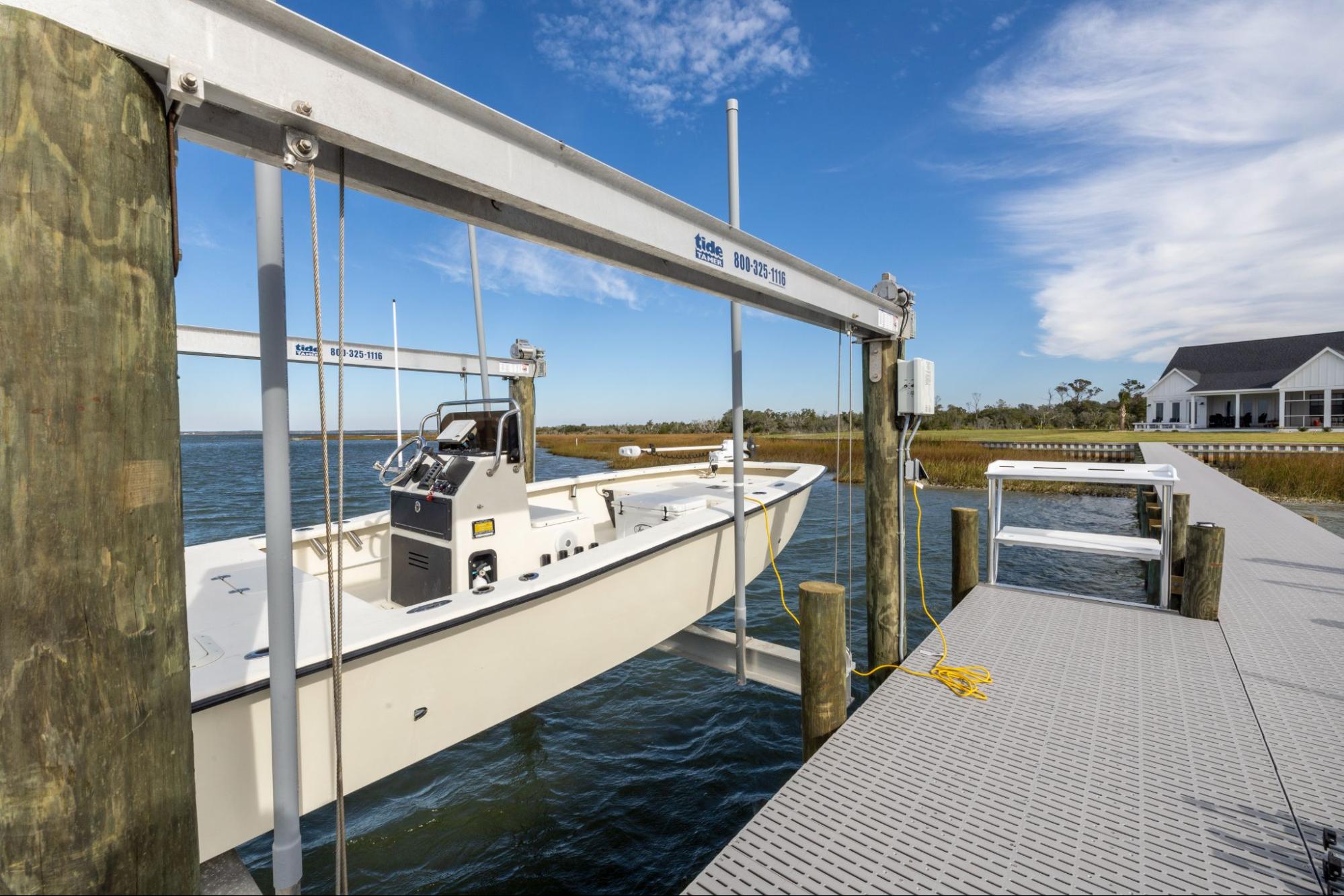 The length of the dock can also depend on the water levels, especially if boating is on the docket. The length will vary by location, but the minimum depth homeowners typically need to dock a boat is between 2 and 3 feet, with 4 to 5 feet being the optimal water height. 
If swimming is intended, the length of the dock should be long enough for swimmers to enter safely at the end. But no matter what, make sure you follow your local regulations and safety requirements on dock length.
Wide Docks for Happy Gatherings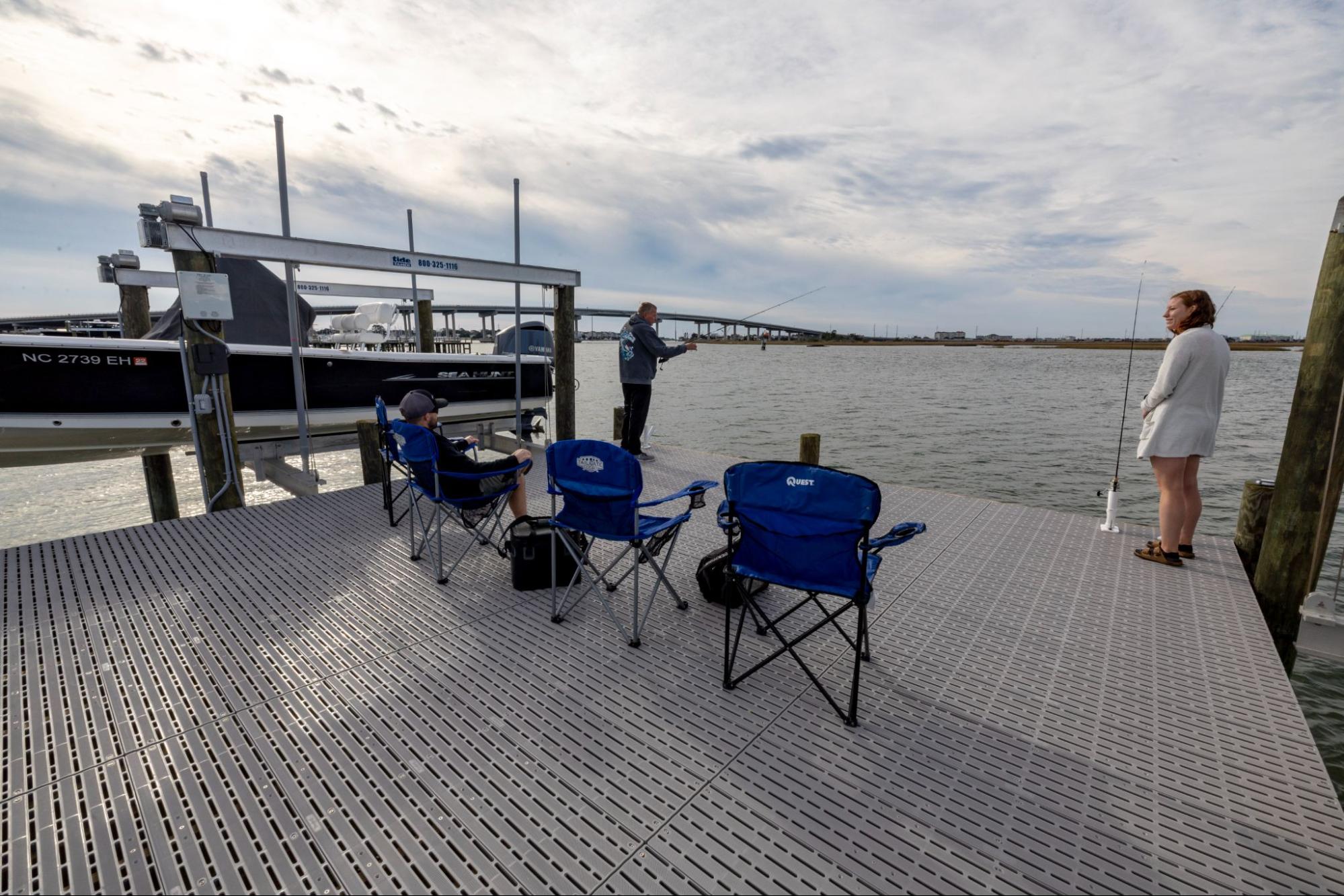 For homeowners planning to invite parents, grandparents, kids, friends and acquaintances over, docks are a great addition to take the conversation outside of the living room. However, a small dock that can only fit one or two people just won't do for big gatherings — the deck should be wide and sturdy enough to host everyone safely and comfortably. 
It makes for effortless hangouts, optimizes space and you can even add features like built-in benches and fishing rod holders to keep the fun flowing. Standard dock sections, which are segments of the decking that are connected together to form an entire dock with uninterrupted movement, are 3- or 4-foot sections. For extra space, consider 6- or even 8-foot sections.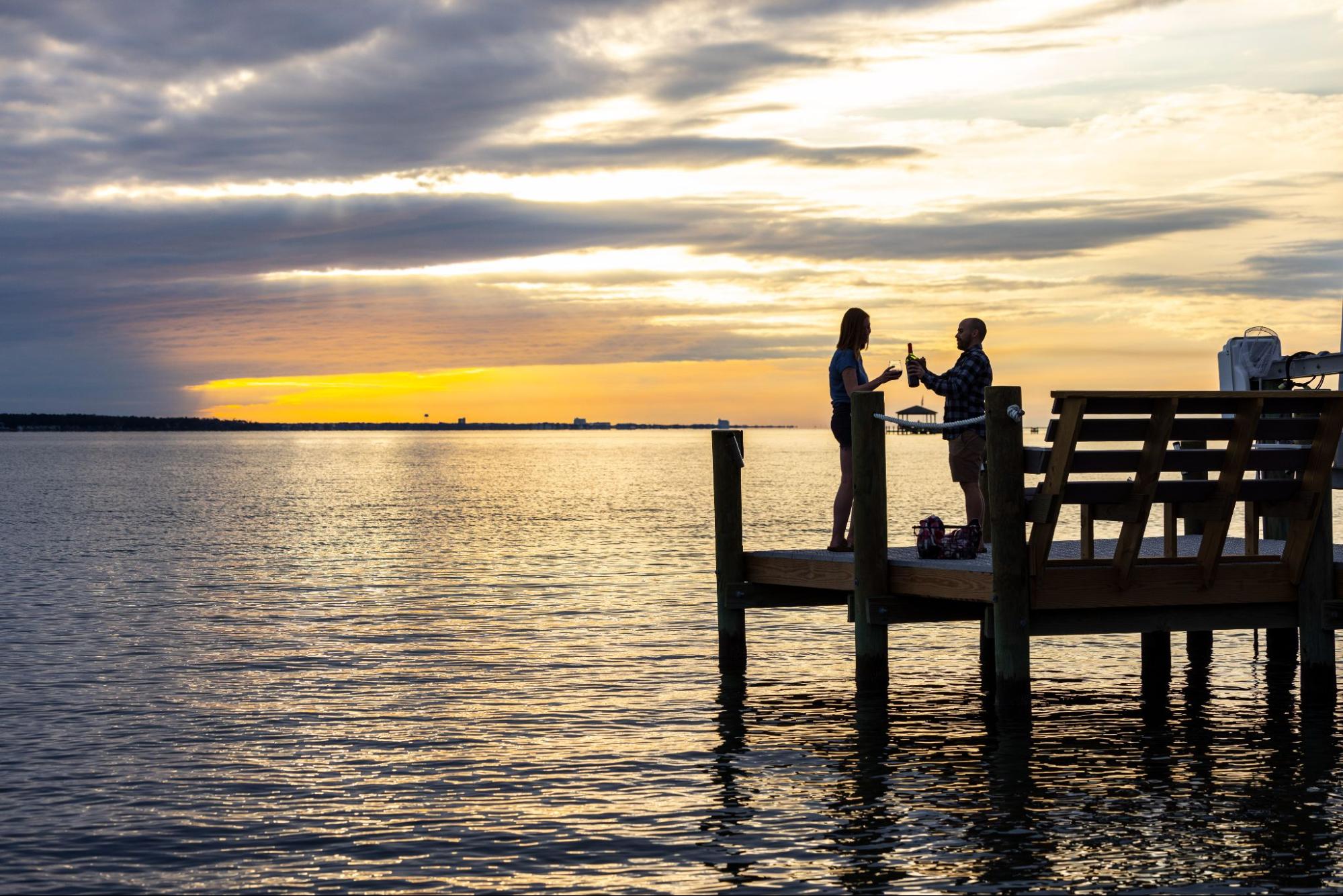 A section with an open area is great for catching every minute of dazzling sunsets. You can pop a bottle of wine and cheers as the sun goes down over the water. You can cannonball off on warm days, dangle your feet over the fish or enjoy some music while eating your favorite meal — the opportunities are endless.
Ramps for Easy Access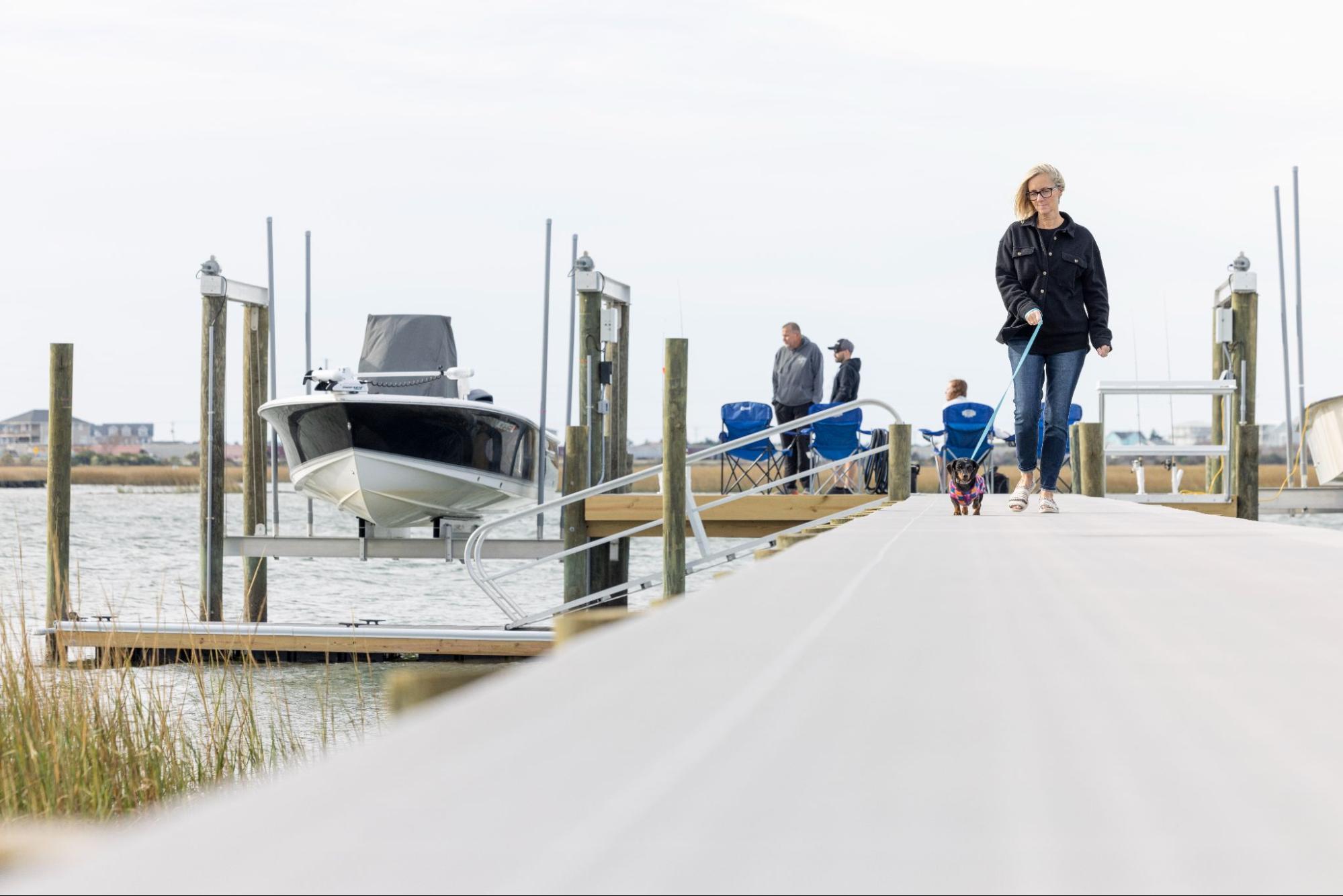 Deck ladders and dock ramps make it easy and safe to get in and out of the water. Whether it's for family members who have accommodation requirements to enjoy the water or it's for easier access to swimming or watersports, a ramp is a design trend that is beneficial for all involved.
Smooth Decking for Easy Hauling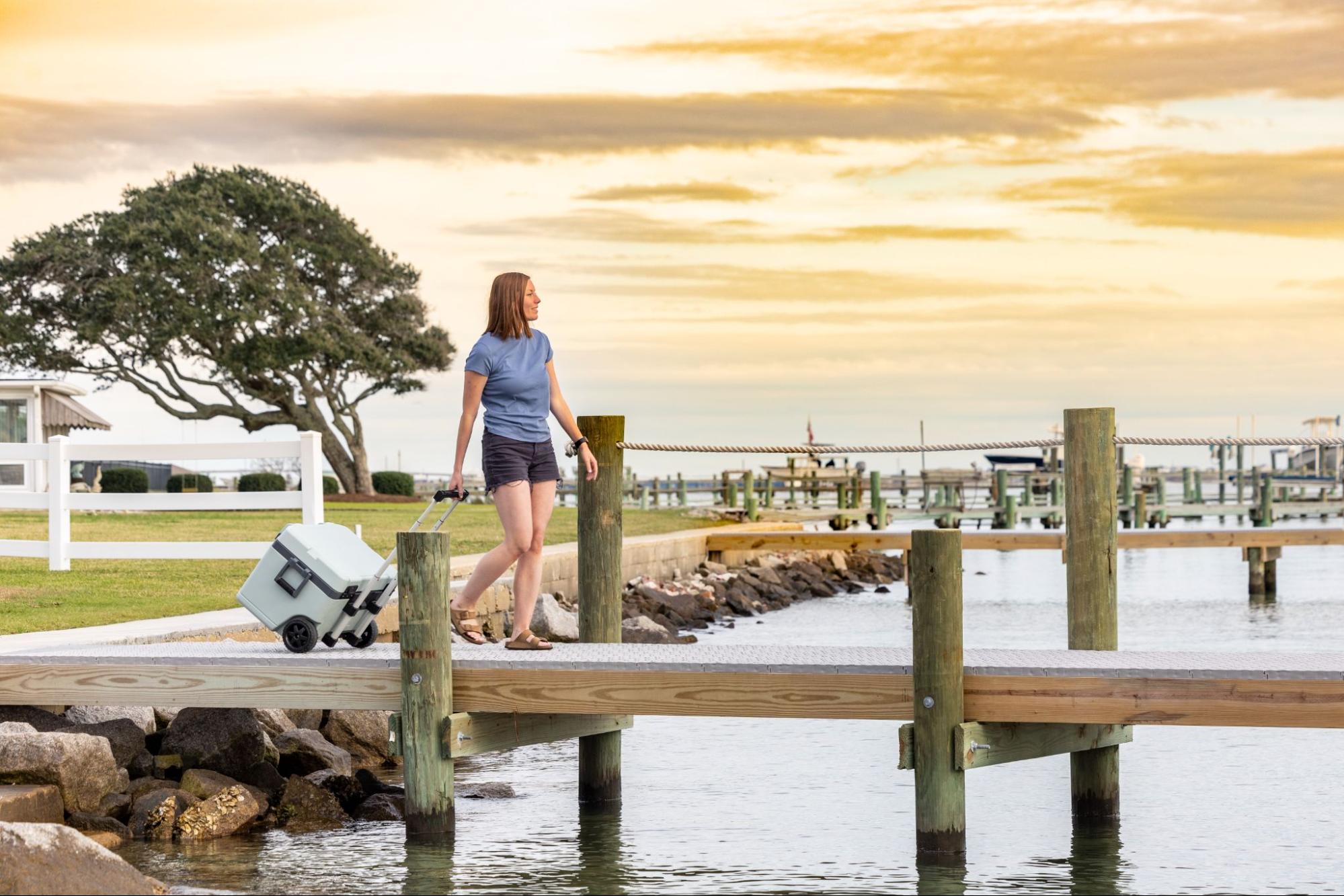 Different deck board materials have different features. Natural wood deck panels are affordable and offer a classic dock look,  but they require routine upkeep to maintain their quality and charm. Pressure-treated wood panels are more durable than natural wood, but they are still susceptible to rotting and warping over time. Aluminum is long-lasting but gets extremely hot on summer days. So what's the best option? 
Compared to wood decking, polypropylene is a better deck board option for a smooth surface and grip protection. You want a material that you can walk barefoot on safely without worrying about splinters and cracks. 
Not to mention, unlike its wood or composite decking counterparts, certain high-quality polypropylene decking guarantees no warping, bending, cracking, splinters or tiresome upkeep to ensure that your dock decking can endure boat-day hauls for years to come.
Boat Lifts Galore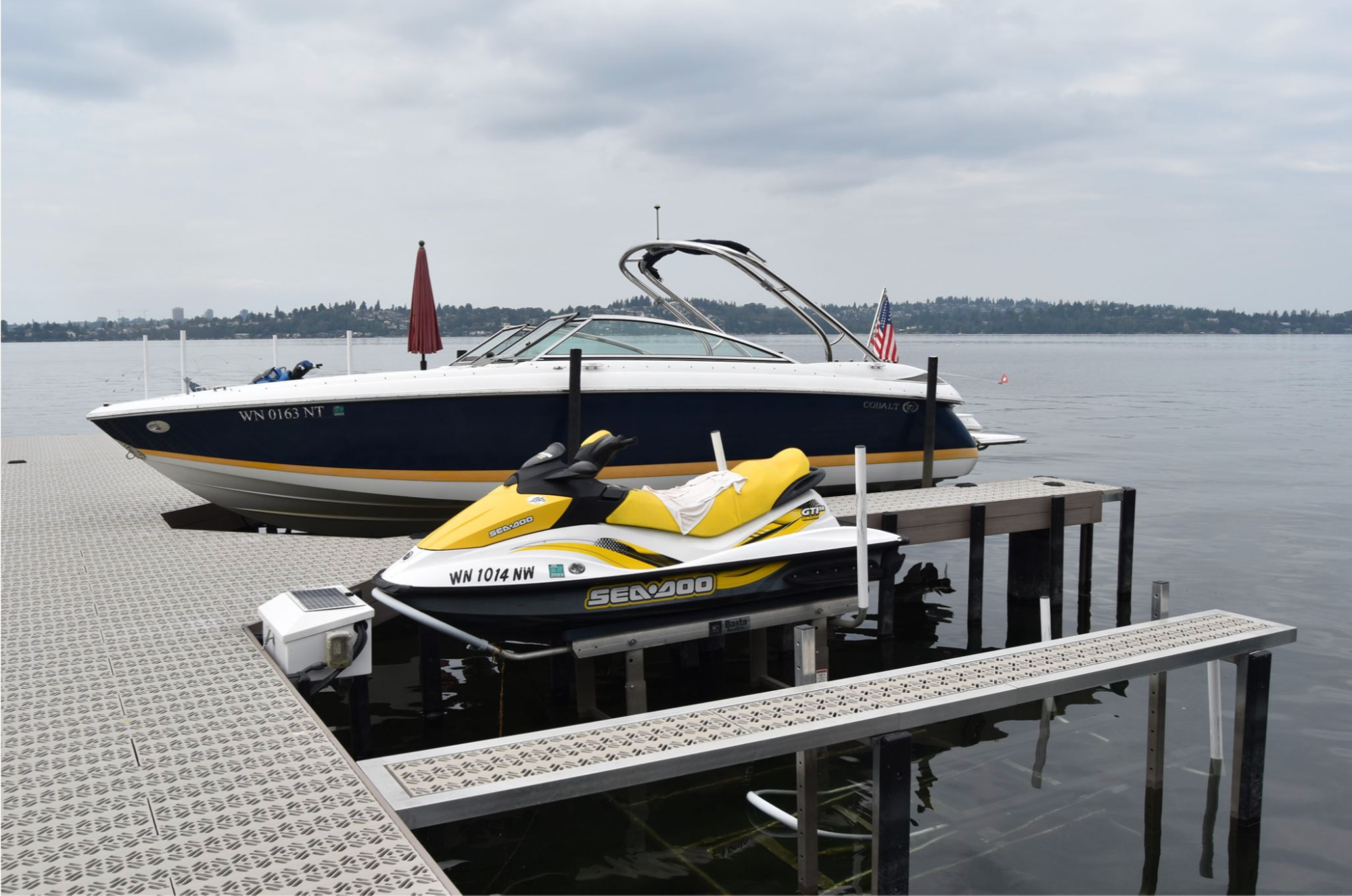 For families big on boating, efficiency is key for an enjoyable day out on the water. One of the biggest hassles for boat owners is having to launch boats off of a trailer just to load them back on after the day is over. Not only is it time-consuming, but it can be challenging if the ramps aren't well-built or maintained. This is where boat lifts come into play. Great for boats or jet skis, lifts eliminate the need for launching and make it a breeze to load and unload all the boat day essentials like coolers, chairs and bags.  
Keep in mind that boat lifts don't just have short-term benefits. If you prioritize the maintenance of your boat, lifts are a great investment to ensure its longevity — lifts help protect its quality and improve safety by preventing scum, slim build-up, water stains and damage during rainstorms, high winds and beyond. 
When investing in a boat lift, choose one that's designed for your intended watercraft. Be especially careful of the weight capacity. You might think your 4,000-pound boat may fit on a 4,000-pound lift, but that capacity doesn't account for everything and everyone you bring on board.
Kayak Launch Spots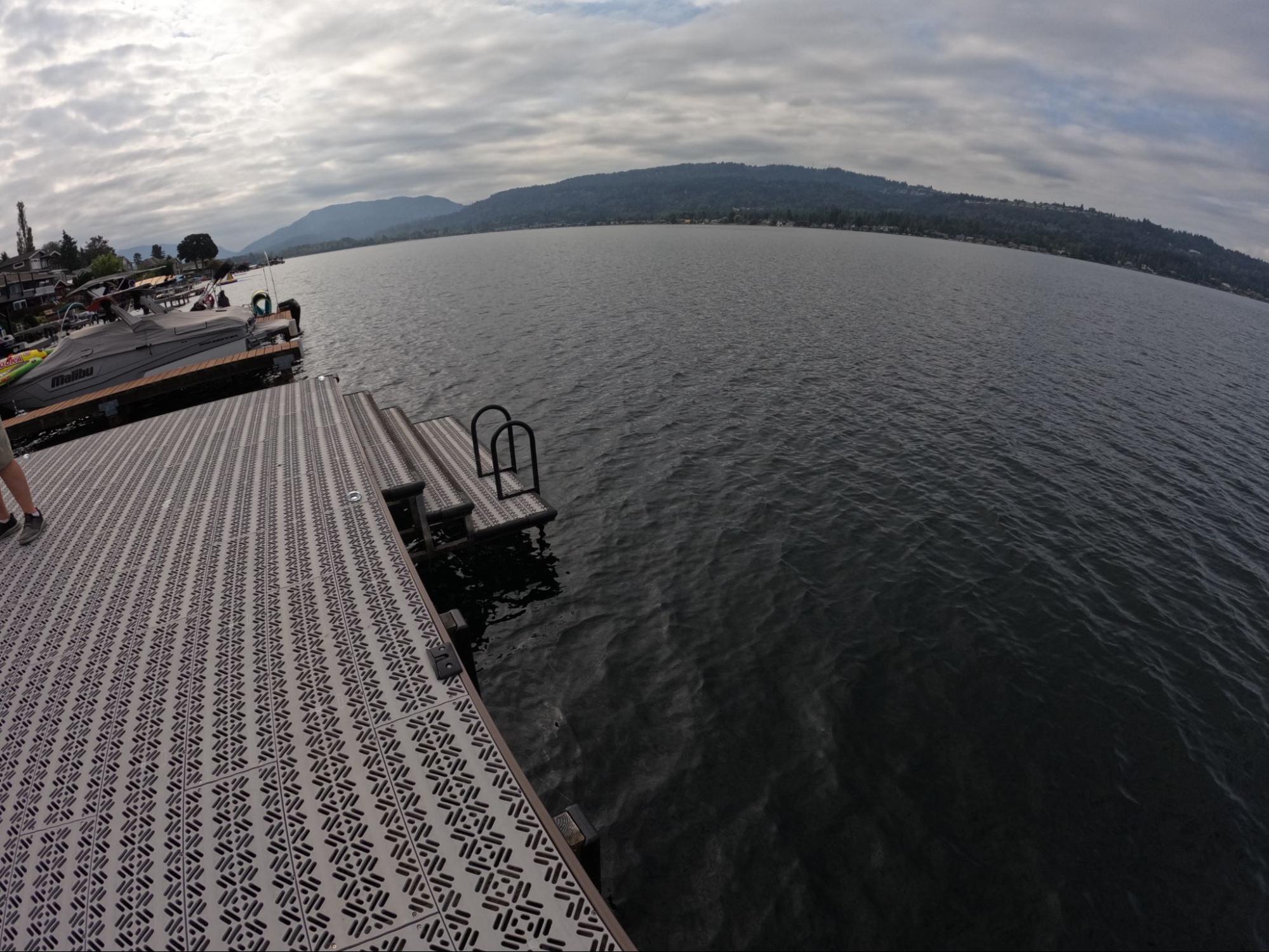 Unlike boats and jet skis, launching smaller paddleboards and kayaks is an easier process that only takes a few short minutes before the enjoyment begins. A launch platform is a great design addition for avid paddle boarders or kayak enthusiasts who incorporate these outdoor activities into their daily routines. Open and close to the water, launch areas make it easier and safer for users to climb into a kayak or push off on a stand-up paddleboard, ensuring that their day out on the water is off to a great start. 
Crib Dock Timbers for Safety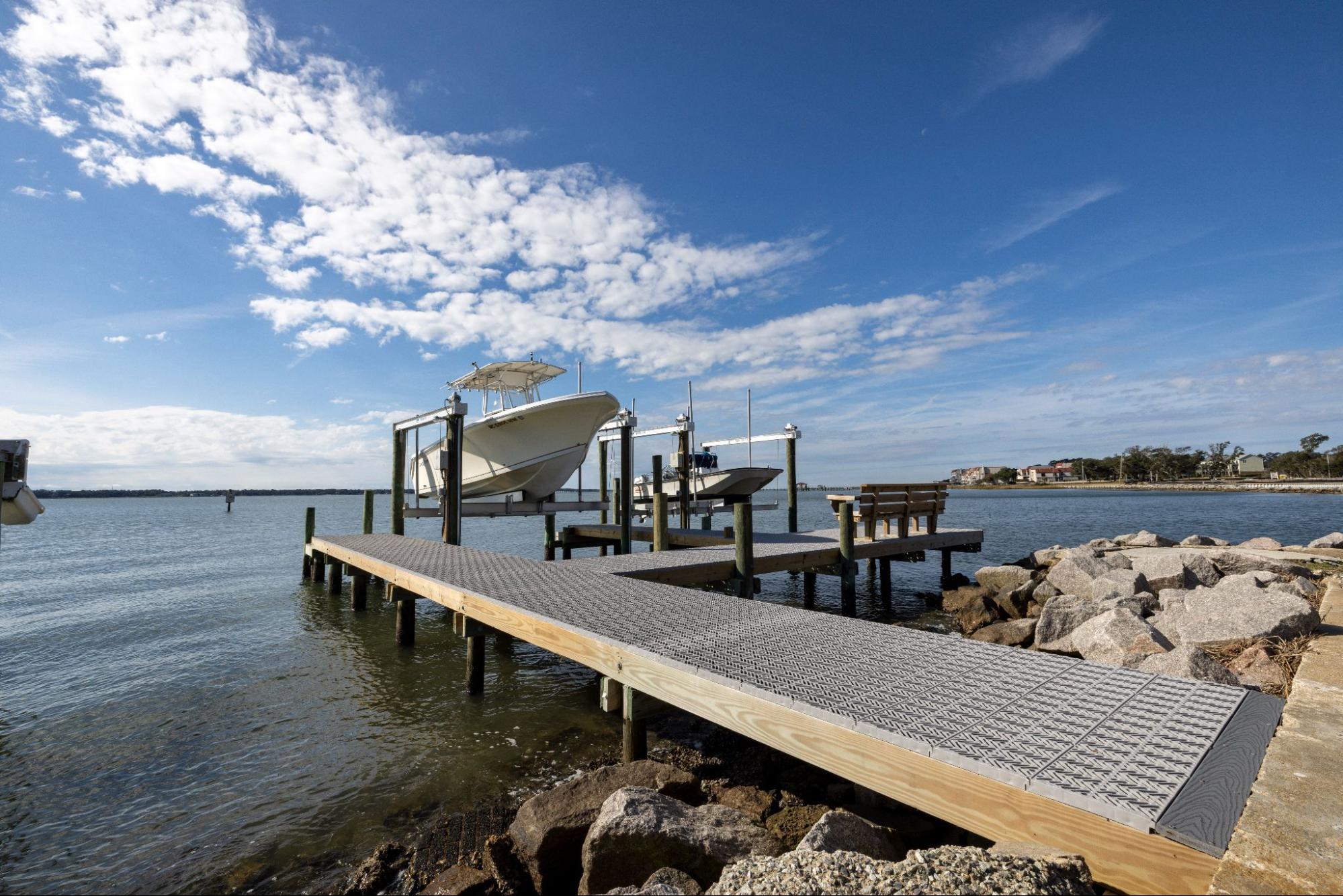 Crib docks are a permanent dock design element that requires minimal to no maintenance once installed. A professional can set up thick timber crates, otherwise known as "cribs," in the water. These are filled with heavy stones, and the dock structure is built on top. Crib docks are great for areas that experience large wakes, stormy weather and strong currents, as they are built with increased durability in mind. 
This is a design feature popular for anglers and boaters who want to hitch their watercraft to a permanent and secure spot. A professional should install thick, pressure-treated beams for the underwater portion and timbers should be at least 6×6 inches. Make sure you double-check your local regulations on the use of pressure-treated lumber in the local water.
Prime Fishing Spots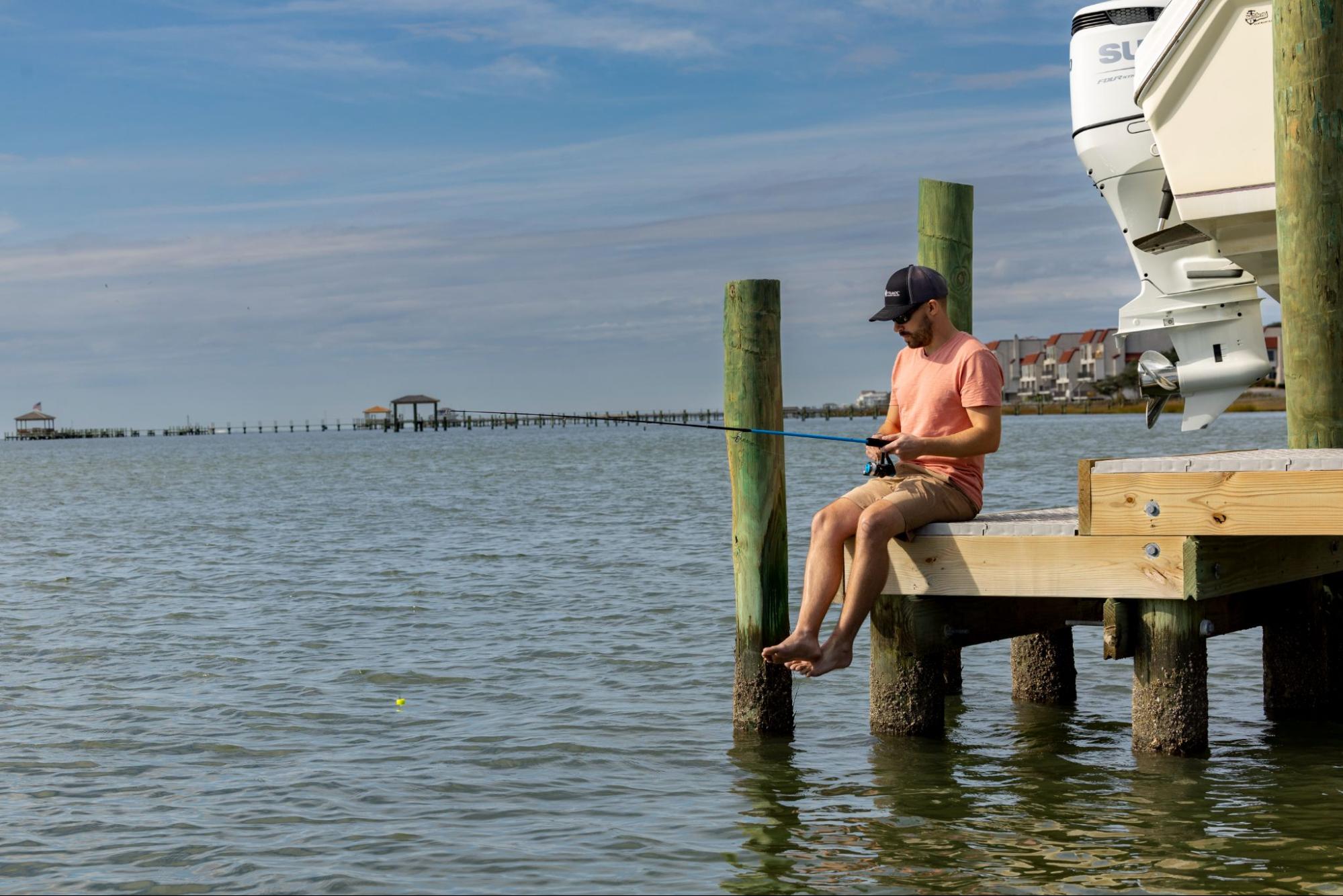 Multi-level docks are in! These are as much for entertainment as they are for access to the water. Adding a lower section is great as a launch platform for water sports and smaller ones getting into the water but also great for the avid fisher in your family. Add a fishing rod holder and fish-cleaning table if you want to get really fancy.
Rope Sides for Stability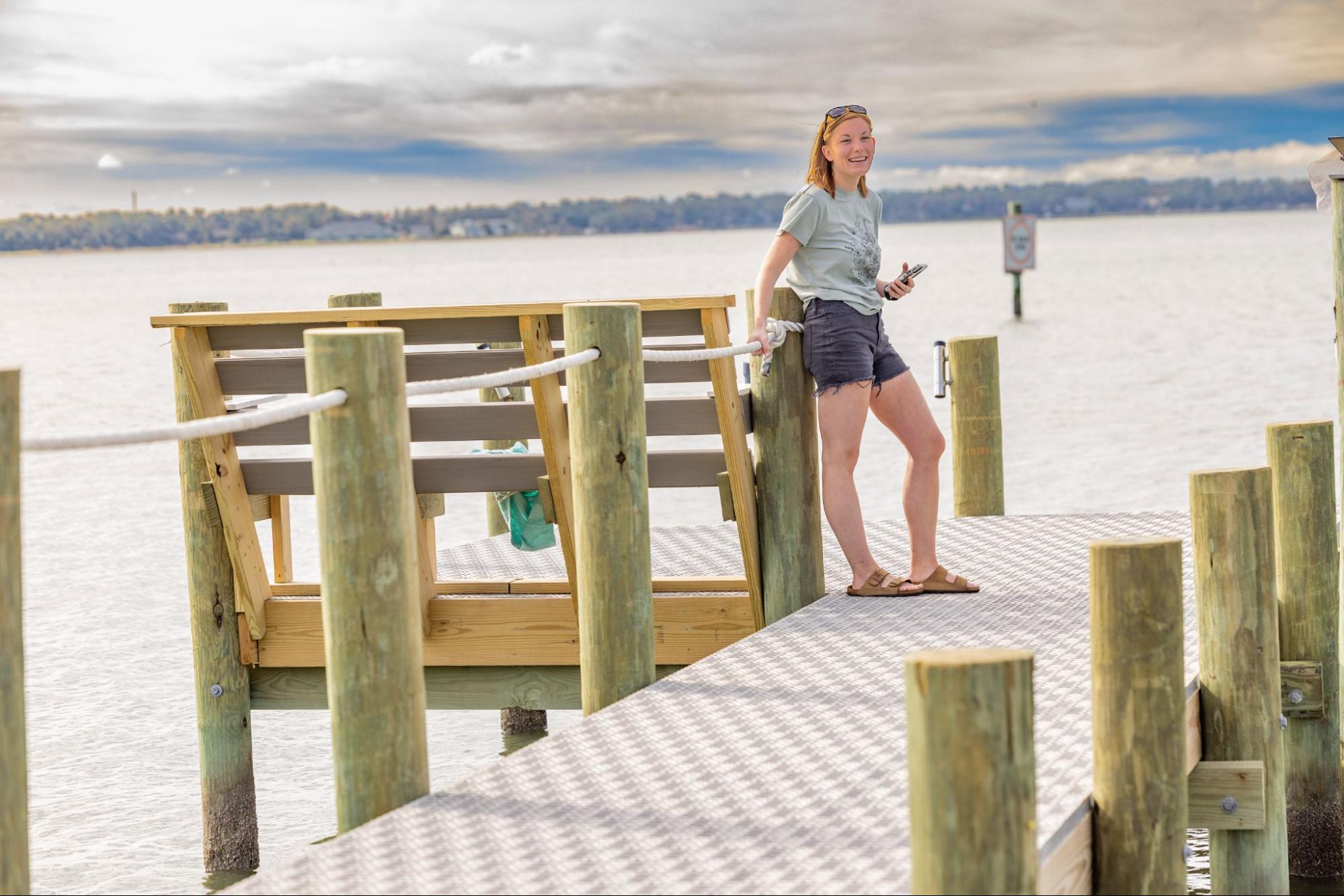 Add ropes on the side of your dock beams for added stability and for a nautical look. The best rope material for dock lines is nylon. It has three key characteristics: it's super strong, stretchy and good at resisting the harmful effects of sunlight.
Contemporary Comfortability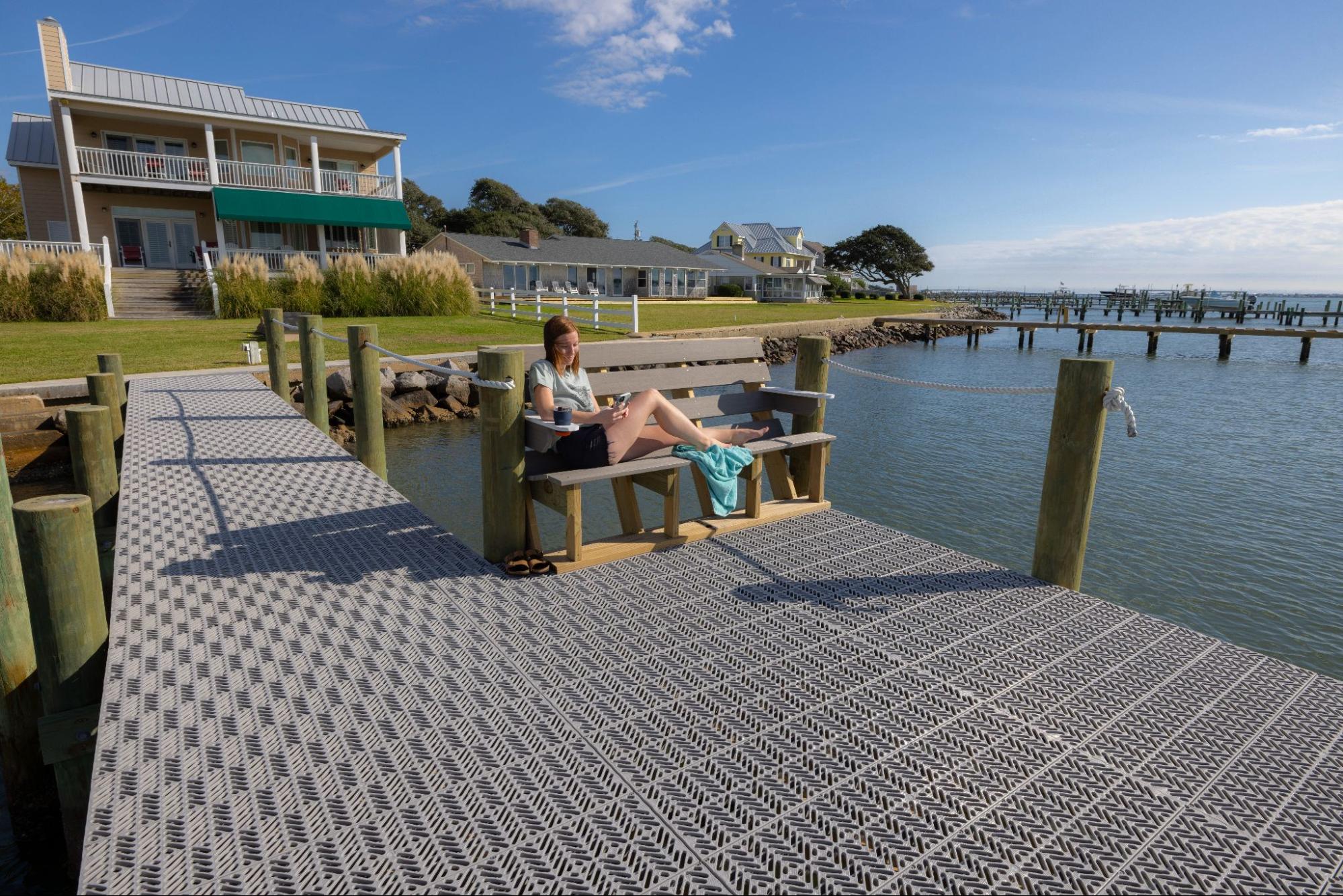 For those who love being comfortable and cozy, create a custom, built-in bench for your dock. Just about anyone who spends time on the water will get a lot of use out of dock furniture. You can enjoy sitting on the dock long into the night if you add a fire table or string lights. You can read over the water during the day with a book and added-in cup holders to enjoy a refreshing beverage.
Pick a Barefoot-Friendly Material Sure to Last
Traditional wood docks are fine, but they require a lot of maintenance and can rack up quite the installation bill. Treated wood is less maintenance, but will still require upkeep and replacement over time, and some areas don't authorize the use of treated lumber over water. Aluminum docks are strong, but they corrode over time and get hot underfoot.
Polypropylene is a special type of plastic that is chemically resistant, flexible and cool underfoot. Chum is no issue, maintenance is virtually non-existent, its flexible strength keeps it strong during storm surges or high winds and it's safe for barefoot water-goers — what more could you ask for?
Here at Titan Deck, our products are some of the best, 100% polypropylene dock boards on the marine market. While Titan Deck products won't necessarily be cheaper than alternatives upfront, the lifetime costs associated with its upkeep and maintenance will save you exponentially.
We incorporate a grid-like structure with holes and slats in the deck, allowing water and sunlight to pass through. This helps meet local regulations for sunlight penetration and helps your dock weather storm surges. You get a limited lifetime warranty, UV protection to minimize fading and boards built to be the last marine decking you'll ever need. 
For more information on various polypropylene plastic marine decking solutions, check out our deck board selection and contact us for more information.