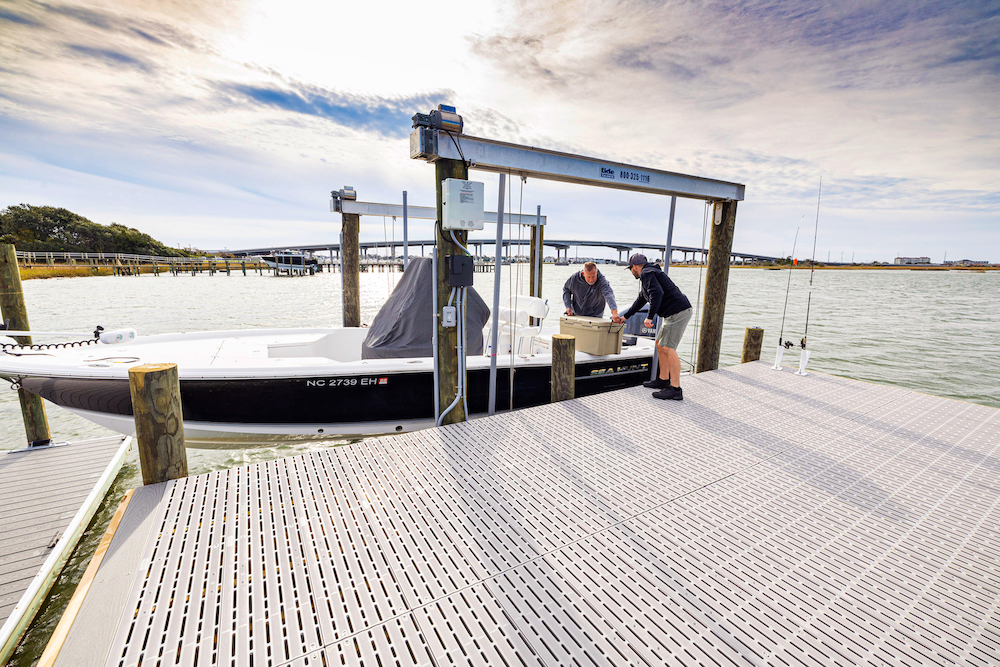 If you've made the choice to invest in marine decking, you need an expert's advice on how to keep it properly maintained in winter weather. Fortunately, Titan Deck has got you covered. After studying marine deck boards for over 20 years, our team wants to make sure you're doing everything you can so your decking can hold up against constant exposure to the elements and stand tall against harsh weather conditions.
With dirt, algae and bare feet constantly on the boards, you'll want to ensure you're matching the right maintenance tasks with the right type of boards. In this blog, we've provided a guide on how to maintain marine decking whether you choose composite decking, wood decking or plastic decking. Proper maintenance of your deck boards is critical to increasing the longevity of your marine deck.
The Importance of Proper Maintenance of Marine Decking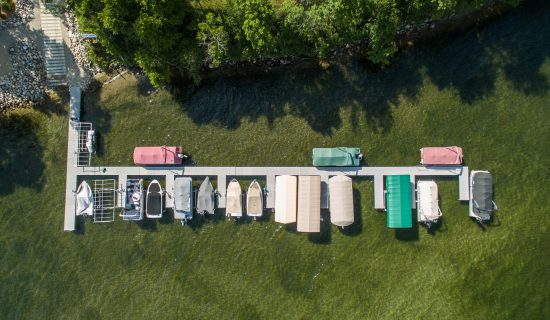 Choosing to purchase a home dock or pier is no easy, carefree decision. It's an upfront investment that should potentially last decades for you and your family to enjoy. However, your deck's longevity isn't guaranteed — proper upkeep is a vital step in maintaining its quality and charm. While some materials require more care than others, marine decking maintenance is a critical component for a long-lasting dock or pier. 
If improperly maintained, marine decking can leave you with a hefty bill for severe repair or complete replacement. The price tag can reach tens of thousands of dollars, so taking the time to lay out the maintenance requirements and what you can or cannot handle is crucial if you want to be able to enjoy your marine deck for decades. 
Different materials, from composite decks to wooden decks to plastic decks, will have different maintenance requirements.
Marine Decking Maintenance Tips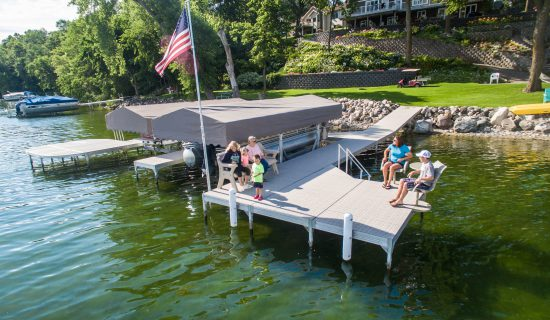 Regardless of your material choice, routine cleaning is necessary. If possible, weekly clearing of debris and soft cleaning will help prevent any lasting damage. Soft brushes should be used with a mild detergent, against the grain if it's wood fibers. If any mildew or mold is noticed, a small amount of bleach can be used if necessary.
As you do your routine cleaning, check to see if any repairs are necessary. You'll always want to take care of repairs as soon as you notice them, or they'll continue to deteriorate and cause more damage or lead to potential full replacement.
It is important to note that different materials may require different maintenance. Choosing the right material for your marine deck will impact the lifetime cost of cleaning, the longevity of the deck before it needs replacing and how well it withstands the elements associated with a waterfront environment.
For wood decks, marine-grade plywood is often used. Wood boards, even ones that are pressure- or chemical-treated, will eventually rot when placed in high-humidity areas or built directly over the water. Even with protection from sealant and high-quality stains, wood boards have an expected lifespan of only 10 to 20 years.
Yearly staining and sealing also need to happen. This adds up over time with high upkeep costs. Within those years, wood boards can rot and will need to be replaced immediately, adding to these costs.
Composite decking is less maintenance than wood — it's lightweight, won't warp and is a breeze to clean. Compared to wood, composite decking lifespans average 25 to 30 years. But, if you have a pressure washer for fast cleaning, take extra caution for this type of material as it can peel composite boards. Composite material is highly prone to mildew and mold as well, so you'll also need to keep extra bleaching in mind.
If you like to be barefoot on your deck, composite deck boards make that hard. On a hot summer day, it can reach up to 150°F, which can easily cause burns on anyone unlucky enough to forget their shoes.
The required maintenance and replacement costs from wooden and composite decking boards can be avoided by opting for more maintenance-friendly, waterproof boards like polypropylene plastic lumber. 
Plastic will never rot, swell, warp or splinter after constant exposure to water. Plastic lumber doesn't require any ongoing treatments, like staining or sealing, to remain waterproof. On top of lower maintenance, polypropylene offers long-term benefits that these other materials don't.
Polypropylene boards survive a long life without replacement because they remain stronger for longer and there's no cupping, rotting, peeling, fading, blistering or breaking under normal use and weathering. You can also walk comfortably on the deck barefoot even on the hottest day of the year — no shoes necessary.
Importance of Investing in Maintenance-Free Marine Decking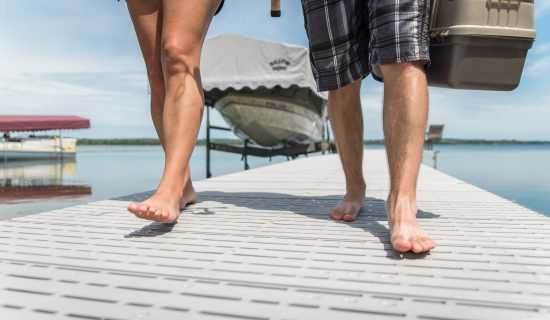 Maintenance-free decking, like polypropylene plastic boards, last longer with basic cleaning and repairs. Zero additional time is required for staining, painting or sealing. They also have UV protection, which saves extra time and effort from sun damage, and ultimately requires less upkeep because they are resistant to warping, bending, cracking and splinters.
The benefits are endless and the choice is clear. If you want to limit your maintenance and use the extra time on your hands actually enjoying your marine deck doing the things you love, invest in 100% polypropylene marine deck boards from Titan Deck.
The Titan Deck Maintenance Promise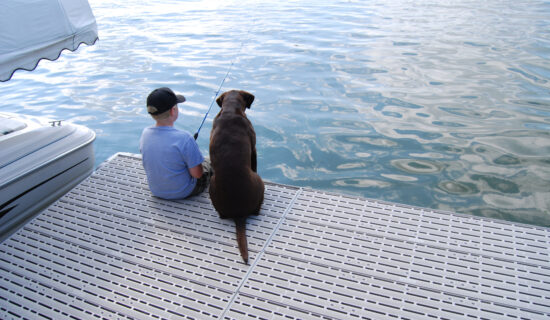 Polypropylene plastic is the market's most low-maintenance and cost-effective marine decking type. Titan Deck is a polypropylene injection molded and slotted deck board that allows water, debris and sunlight to pass through easily, keeping your walking surface clean and safe.
Titan Deck boards are molded with a knurled surface to prevent slipping, even when the surface gets wet. They are UV-protected to keep from fading, hold up to extreme temperatures and weather conditions, are easily cleaned with soap and water and were designed with bare feet in mind.
While Titan Deck boards have a similar or slightly lower price point than composite decking, the real cost savings are in the lifetime and low upkeep of the dock. By following maintenance tips of regular cleaning and inspection, you can keep your Titan Deck marine decking in pristine condition. You may never have to buy decking again as Titan Deck is made to last a lifetime and is covered by a limited lifetime warranty.
Want to learn more about various polypropylene plastic marine decking? Check out Titan Deck's offering and contact us for more information.