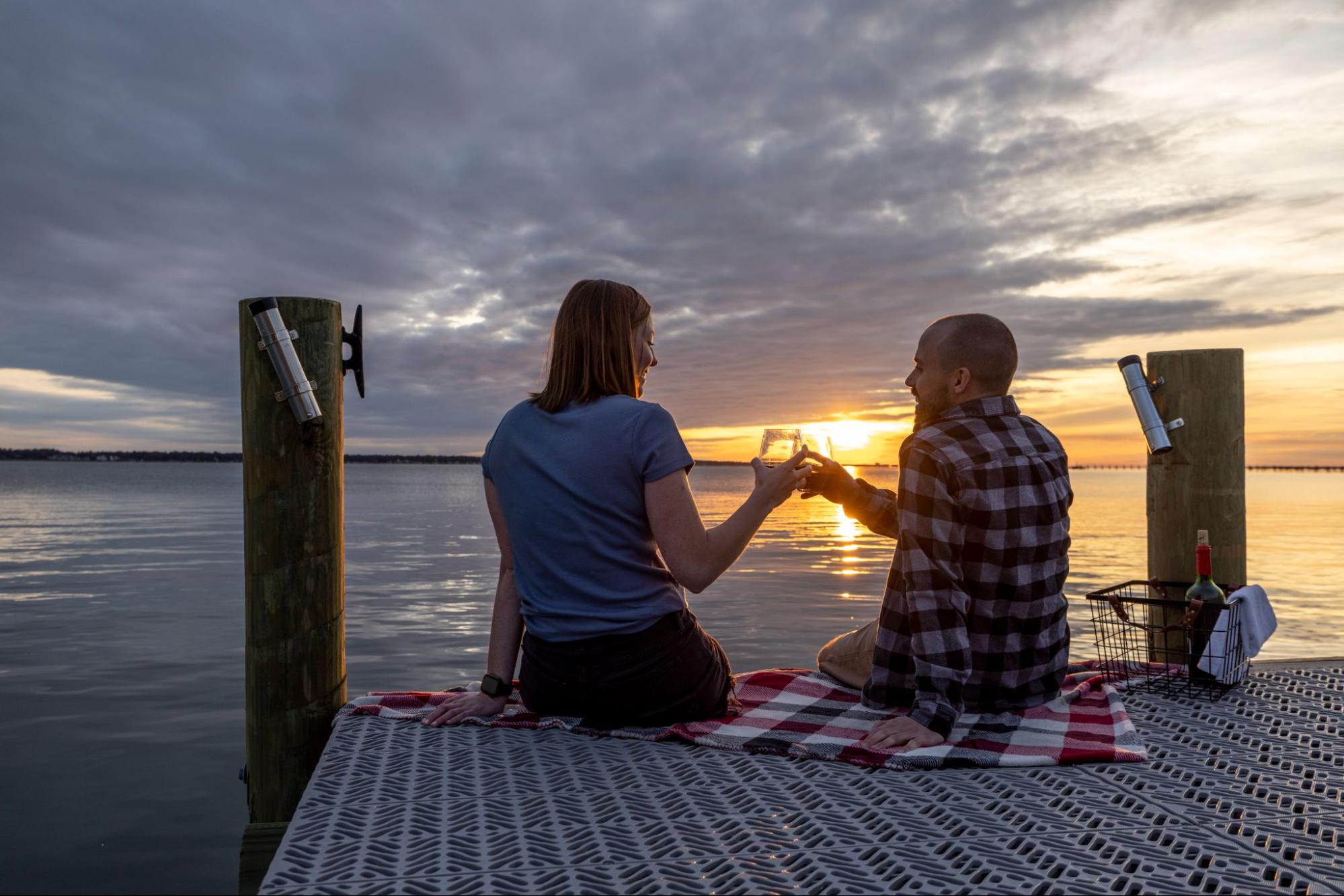 When summer rolls around, anyone with waterfront property should take full advantage of the outdoors. Spend those longer days and warmer temperatures with the sight and sound of the waves and add a few more hundred square feet of living space to your home. Let's dive into five ways you can prep your waterfront deck for maximum enjoyment this summer.
1. Match Your Surroundings
Choose decking materials that complement the natural surroundings. Opt for wood, such as cedar or redwood, to achieve a rustic and organic look. Alternatively, composite materials can mimic the appearance of natural wood while offering enhanced durability and resistance to water and weathering.
Select a color palette that harmonizes with the natural environment. Consider earth tones, sandy neutrals or soft blues to evoke a coastal feel to blend the deck seamlessly with the water, sky and surrounding landscape.
Go a step beyond just matching aesthetics and match your dock to the activities surrounding it:
Boating:

Make docking your boat easier and quicker with a boat lift. You can also install extra dock cleats, ramps or ladders to make loading and unloading people and gear more efficient.

Fishing:

If you use your dock mainly for fishing, consider adding built-in rod holders or a fish-cleaning station right on the dock to enhance the experience. 

Entertaining:

Your dock may be used for enjoying the sunset over dinner with friends. Installing built-in benches or tables would add a touch of comfort and ease to your experience.

Water Activities:

When it comes to water activities, equipment can take up a lot of room. From tubes to skis to kayaks to lifejackets and more, adding a storage solution to your dock ensures everything is organized and kept safe. 

Work:

For those using their docks for work, investing in

durable deck boards

means you can pull up crab pots, oyster and clam baskets, nets and more without worrying about damaging your dock. 
2. The Minimalist Approach
Incorporate clean lines and simple structures in your waterfront deck design. Opt for a streamlined deck layout without excessive ornamentation. Use straight, horizontal deck boards and consider a single-level deck to create a minimalist visual impact. Glass or cable railings are both excellent choices for a minimalist waterfront deck, as they provide safety while minimizing visual barriers
Stick to a limited color palette that complements the natural surroundings. Neutral tones such as white, gray or taupe can create a contemporary and minimalist look. Alternatively, you can choose a single bold accent color for a pop of visual interest against a neutral backdrop. Consider furniture pieces made of materials such as metal, teak or concrete for their modern and minimalist appeal.
The material of your deck boards can make a big difference too. If you're going for the minimalist look, consider using deck boards from Titan Deck's Classic collection that perfectly captures the timelessness of a simple yet gorgeous deck. 
3.
Make Comfort Key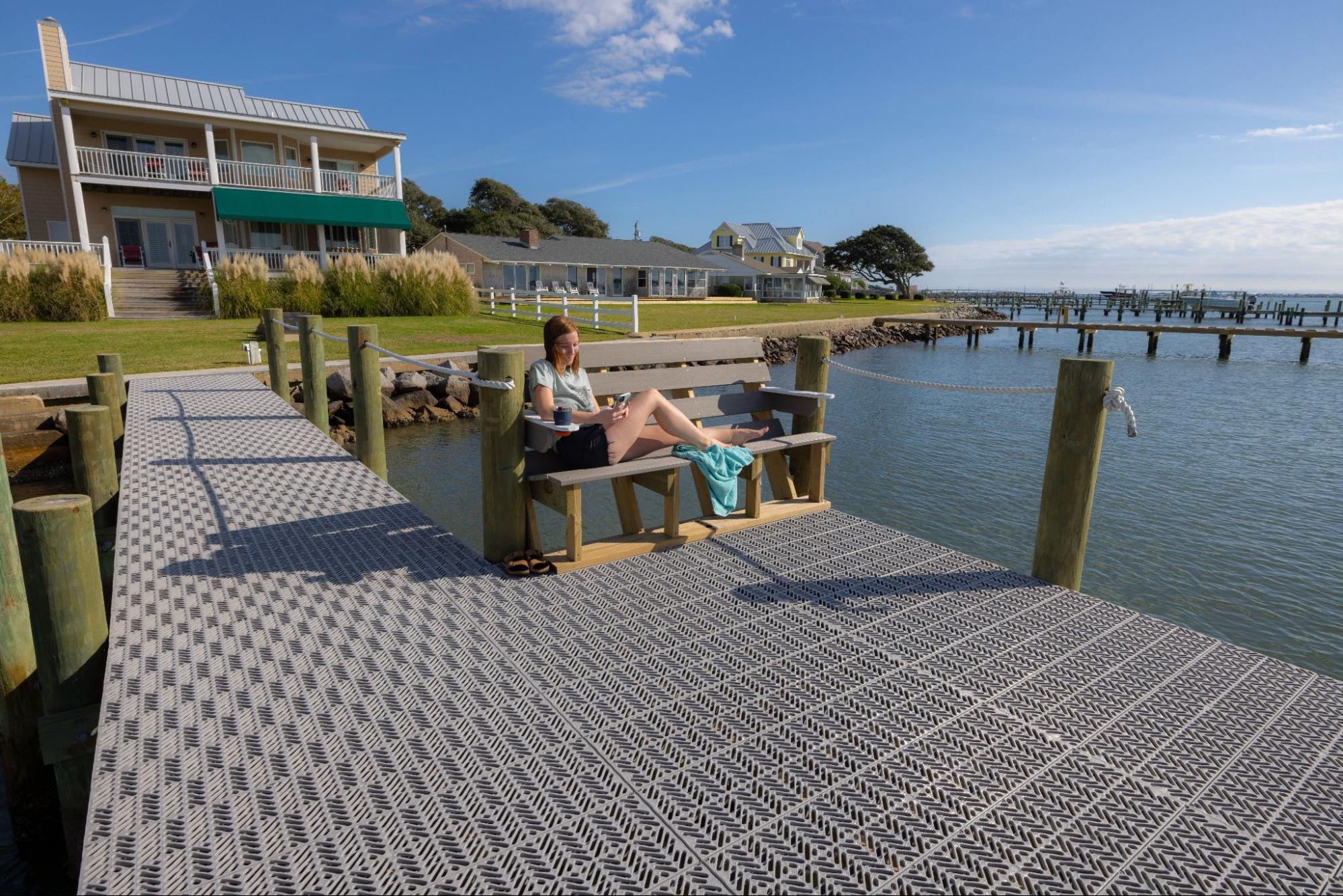 Provide ample seating options like lounge chairs, outdoor sofas, hammocks or even built-in benches. Choose high-quality cushions and upholstery designed for outdoor use to ensure both comfort and durability.
As much as we love the sun, sometimes it can be too much. Create areas of shade on your waterfront deck to offer relief from the sun's heat with retractable awnings, shade sails or umbrellas that can be adjusted to provide shade when needed. Also consider using a decking material like polypropylene that naturally absorbs less heat than materials like wood, composite or metal decks. 
If you want to use your new outdoor living space far into the summer nights, consider installing some ambient lighting. Use a combination of soft overhead lighting, such as string lights or dimmable LED fixtures, and accent lighting to create a warm and inviting ambiance. Consider incorporating solar-powered lights for eco-friendly illumination and lower electricity bills.
4. Don't Be Afraid to Decorate!
To make your waterfront deck stand out with coastal design elements, consider incorporating the following features and touches:
Use a Nautical Color Palette:

Choose hues such as soft blues, sandy neutrals, crisp whites and seafoam greens. Use these colors for your deck's surfaces, furniture, cushions and accessories to evoke a beachy and serene atmosphere.

Keep An Eye Out For Driftwood:

After a storm scour the beaches and shoreline for naturally weathered pieces of old washed-up wood. With a skilled hand, driftwood can be shaped and crafted into a variety of different furniture pieces such as end tables and lampstands.

Rope Railings and Nautical Knots:

Incorporate rope railings or balustrades to give off the air of a beach-style deck. Natural fiber ropes, such as sisal or manila, can be used as handrails or as decorative elements.

Coastal-inspired Lighting Fixtures:

Choose fixtures made of materials like brushed nickel, weathered brass or seashell-like textures. Consider incorporating fixtures that resemble lanterns, marine beacons or maritime-inspired sconces to add a touch of seaside charm.

Coastal Plants and Landscaping:

Select coastal plants and landscaping features that thrive in the waterfront environment. Choose salt-tolerant plants such as beach grass, lavender, dune roses or succulents. Incorporate native coastal vegetation to blend your deck seamlessly with the natural surroundings.

Nautical-inspired Furniture and Accessories:

Select furniture and accessories that reflect a nautical or coastal theme such as ship wheels, lifebuoys or netting.

Eye-catching Deck Boards:

Pick deck boards that go beyond traditional aesthetics.

Titan Deck's X collection

offers a head-turning style that perfectly pairs style with function. 
5. Build a Dock Bar
There are few better ways to enjoy the summer than with a cool drink and close friends! Incorporating a dock bar into your outdoor deck design can lead to some memorable evening events with a waterfront view.
To create a dock bar first start by creating an elevated platform. It doesn't have to be very large or very tall, no more than a foot high and 10 x 8 feet — that's large enough to accommodate most bar stools and tables. For the dock bar surface, try choosing a decking solution that avoids stains from spilled drinks and food — like a polypropylene deck. This will make it easier to keep your dock bar clean and visually appealing. 
Make sure to position your dock bar close to power outlets and, if this isn't possible, install power outlets as close as you can. Design the dock bar with an open layout to take advantage of the surrounding waterfront views. Consider positioning the dock bar in a way that allows your friends to face the water so they can enjoy both great conversation and the scenic backdrop. This layout enhances the overall experience for both the wine and tea drinkers in your friend group.
With that done, all you need to do is find some friends!
Match The Right Design With The Right Decking
Of all the available options for decking materials, polypropylene dock boards will go the furthest in helping you create a cost-effective, comfortable and stylish waterfront deck that will last not just for the summer, but for years to come.
Polypropylene decking is highly resistant to moisture, making it ideal for waterfront environments where decks are exposed to water, humidity and splashes. It does not absorb water, preventing issues like warping, rotting or mold growth that can occur with other decking materials. 
In the summer, decks are subjected to intense sunlight. Polypropylene decking is known for its excellent UV resistance, which helps it withstand prolonged sun exposure without fading, discoloration or degradation. Thanks to its UV resistance, polypropylene also has inherent heat resistance properties, making it comfortable to walk on barefoot even on hot summer days.
One of the greatest advantages of polypropylene decking is its low maintenance requirements. It does not require sealing, staining or painting like wood decks. Cleaning polypropylene decking is typically as simple as using mild soap and water, making it easy to keep your waterfront deck looking pristine throughout the summer season.
Safety is crucial, especially in waterfront areas where decks can become slippery due to water splashes or wet conditions. Polypropylene decking such as that manufactured by Titan Deck often has slip-resistant properties, providing better traction and reducing the risk of slips and falls.
In short, polypropylene plastic marine decking offers the most cost-benefit option for clients due to its exceptional durability, low maintenance requirements and resistance to moisture, UV rays and heat. The long-term value of polypropylene plastic marine decking is undeniable.
For more information on various polypropylene plastic marine decking solutions, check out Titan Deck's decking selection and contact Titan Deck's experts for more information.